"Through my art, I have learned to embrace a spirit of openness and curiosity, casting aside any preconceived notions or biases that might limit my creative potential. By cultivating this mindset, I have tapped into the boundless well of intuition that resides within me, unlocking a whole new realm of artistic possibility. Whether I am painting for myself or working with clients to bring their visions to life, I rely on this intuitive approach as a guiding principle, infusing every stroke with the authentic essence of my creative spirit." – Birte
"My Art is my Prayer" - Chagall
As an artist, graphic designer and brand consultant, I am constantly exploring the question of "Why?". What is my purpose in this life? And how can I help others find their own answers to these questions?
Having studied graphic design in Johannesburg, South Africa, and worked in various advertising and branding agencies, I now work as a freelance designer and artist in Hamburg, teaching courses in mindfulness and intuitive art and guiding companies in their strategic and visual development.
Whether it's an individual seeking answers on their personal journey of self-discovery, or a brand seeking to understand their purpose and create a better world, my tried and tested processes and methods of working guide the process of transformation easily and intuitively. My methodology includes investigating, gaining insights, imagining possibilities, setting intentions, and implementing actions to create lasting change.
Would you like to know more? Join me in exploring the question of "Why?" and discovering your own purpose and vision for a more meaningful life, contact me at hello@birtethurow.de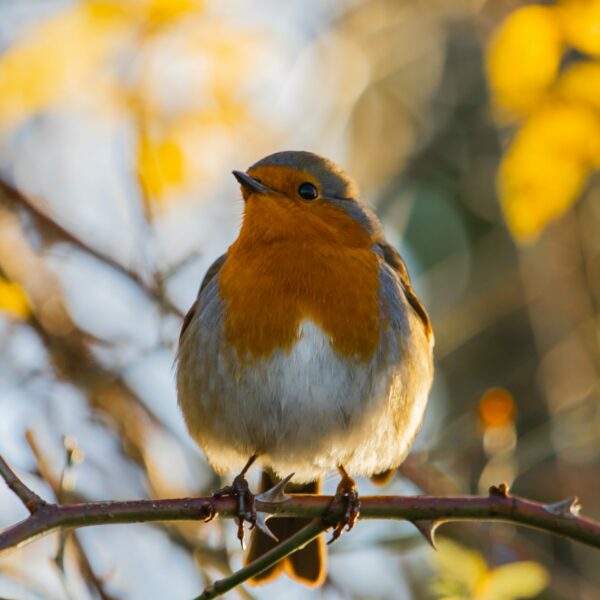 Nature serves as my muse, providing me with endless inspiration and imbuing me with strength. Whenever I feel the need to clear my mind, I reach for my iPhone or camera and venture into the nearby woods. During these walks, my trusty companion, the European Robin, joins me, serving as my personal protector and a harbinger of joy.
"The Redbreast Robin is a powerful symbol of growth and renewal, teaching us to embrace all transformations with a joyful heart and a song on our lips. It demonstrates how to harness the winds of passion in our hearts, empowering us to become self-reliant and independent during times of transition. Now is the time to unleash your own unique voice and sing your own song."
2023 Haspa Poppenbüttel, "African Collection", December 1st – 31 st (Solo)
***  "Meeting My Passion" – Finissage, Thursday August 31st from 7 pm, together with Thilo Schmid who will be reading from his book of poems "Du bist eine Insel" ***
2023 Kortes Buchhandlung, Blankenese, Hamburg, "Meeting my Passion", July 8th – September 8th (Solo)
"100 Days of Art" – Vernissage, Saturday July 1st from 6 pm
2023 Hamburger Kunstgalerie, Mönckebergstraße 2-4, Hamburg, "100 Days of Art", June 16th – August 6th (Group)
2023 Haspa Poppenbüttel, Hamburg "HeimatHafen", May 1st – 31 st (solo)
2023 Artbox, digitial exhibition at galleries in: Miami, Palma, New York, Zurich (Group)
2023 Soul Art School, online gallery (Group)

2022 Haspa Poppenbüttel, Hamburg "African Collection" (Solo)
2021 Haspa Poppenbüttel, Hamburg "Insights/einBLICKE" (Solo)
2021 Open Studio, Hamburg
2021 Haspa Poppenbüttel, Hamburg "Colour Compositions" (Solo)
2020 Haspa Poppenbüttel, Hamburg "Glimpses of Light/Lichtblicke" (Solo)
2020 Haspa Poppenbüttel, Hamburg, "Soul Art" (Solo)
2018 Hafenbox, Hafen City, "Art & Soul", Hamburg (Solo)
2016 Kunstschule Sybille Kreynhop, "Von der Sonne Geküsst", Hamburg (Group)
2015 Kunstschule Sybille Kreynhop/Jacques Weindepot, Hamburg (Group) 
2014 Kunstschule Sybille Kreynhop/Jacques Weindepot, Hamburg (Group)
My journey back home to me...
A few years ago, I had a great career in advertising, design, and branding. But I felt like something was missing. I wasn't sure why I was doing what I was doing.
I embarked on my journey of self-discovery and restoration of my creative self. Julia Cameron's "The Artist's Way" was one of the many inspiring books I read and worked through during this time. I was on a mission to understand myself more fully again, to go even deeper and learn what my true needs and values were.
One of my first steps was to pick up my pencils and paints again. It was challenging, but it left me with a deep sense of fulfilment and gratitude. I soon realized that I needed to find a mentor to support me in improving my artistic skills and techniques. In the spring of 2014, I signed up for art classes at a small, private art school. Here, I was offered a safe space of support and challenge in which I could unfold and develop my artistic skills. 
I also took workshops that taught me to trust my intuition and enjoy the creative process without judging myself. You can learn more about my intuitive art and soul art journey on my blog.
The journey of exploration and transformation continues and I am currently studying at the Soul Art School.
Explore your unique soul expression
Please join me, as we celebrate a process of inspiration, reclamation, and the journey of self-discovery through mindfulness and art-making in a Spirit & Heart Guided Journey
"Thank you very much for the beautiful workshop. I really enjoyed the creative and intuitive process again and I am fascinated by what came out of it and how effortlessly a meaningful intention emerged in the end. Simply wonderful. I feel wonderfully inspired and am already very much looking forward to the next art journey together."
I loved the concept and also the fact that it was not in any way outcome-oriented. I had the chance to just be me.
Dearest Birte, I wanted to thank you deeply once again for the beautiful workshop, it is a constant source of inspiration for me ever since. It really was a very special morning and YOUR presence contributed enormously to making it so special. THANK YOU!
Follow along on Instagram:
Join the mailing list
Receive early access to new originals, prints and more!