Collection inspired by and created for the book of poems "Du Bist Eine Insel" by Thilo Schmid.
EXHIBITION: 01.12. – 31.12.2023
Haspa Poppenbüttel, Poppenbütteler Weg 195, 22399 Hamburg
"Love and desire meet in the embrace of art and poetry. As each stroke of the brush captures the essence of every word, I am reminded of the passionate dance between two lovers, inspiring each other to create magic beyond words. Introducing my latest collection, inspired by the power of poetic love."
As soon as Thilo approached me with the idea of creating artwork to accompany his poetry, my heart leapt with excitement. Without hesitation, I knew that this was an opportunity to ignite my creative force. I could never have anticipated the extraordinary collection that would emerge from this collaboration. My approach was deeply intimate and intuitive, drawing inspiration directly from the energy of Thilo's words. Each piece flowed forth effortlessly, as if channeled directly from the creative source. The experience was truly transformative, infusing every fiber of my being with a renewed passion for the artistic process.
"Deine Bilder bringen mir gerade so viel Licht und Farbe, das ist einfach herrlich!" – Thilo Schmid
"Your paintings are bringing me so much light and colour right now, it's just glorious!" – Thilo Schmid
From DECEMBER 1ST - DECEMBER 31ST, 2023
Haspa
Poppenbütteler Weg 195
22399 Hamburg
Purchase originals and prints directly in the bookstore
or
contact me via email:
hello@birtethurow.de
Monday, Wednesday, Friday
9:30 am – 1.00 pm
Tuesday, Thursday
9:30 am – 6:30 pm
Saturday and Sunday
Closed
Purchase an art print + the book "Du bist eine Insel" and you get a beautiful shopper bag for free!
This offer is valid for the duration of the exhibition and can be purchased directly at the bank, email me  to place your order: hello@birtethurow.de
Creating this series was the most passionate and fulfilling painting experience to date...
When the Morning Kisses the Night
The making of 'When the Morning Kisses the Night' 21 x 14,8 cm (unframed). Available to my mailing list on April 27th
This was one of the first artworks, inspired by the passionate poetry by Thilo Schmid, a declaration of love to the island of Majorca. As I worked, listening to the words of the poems, I felt I was there watching, the morning sun rising slowly on a hot, late summer day, painting the sky in shades of pink, orange, purple and then blue…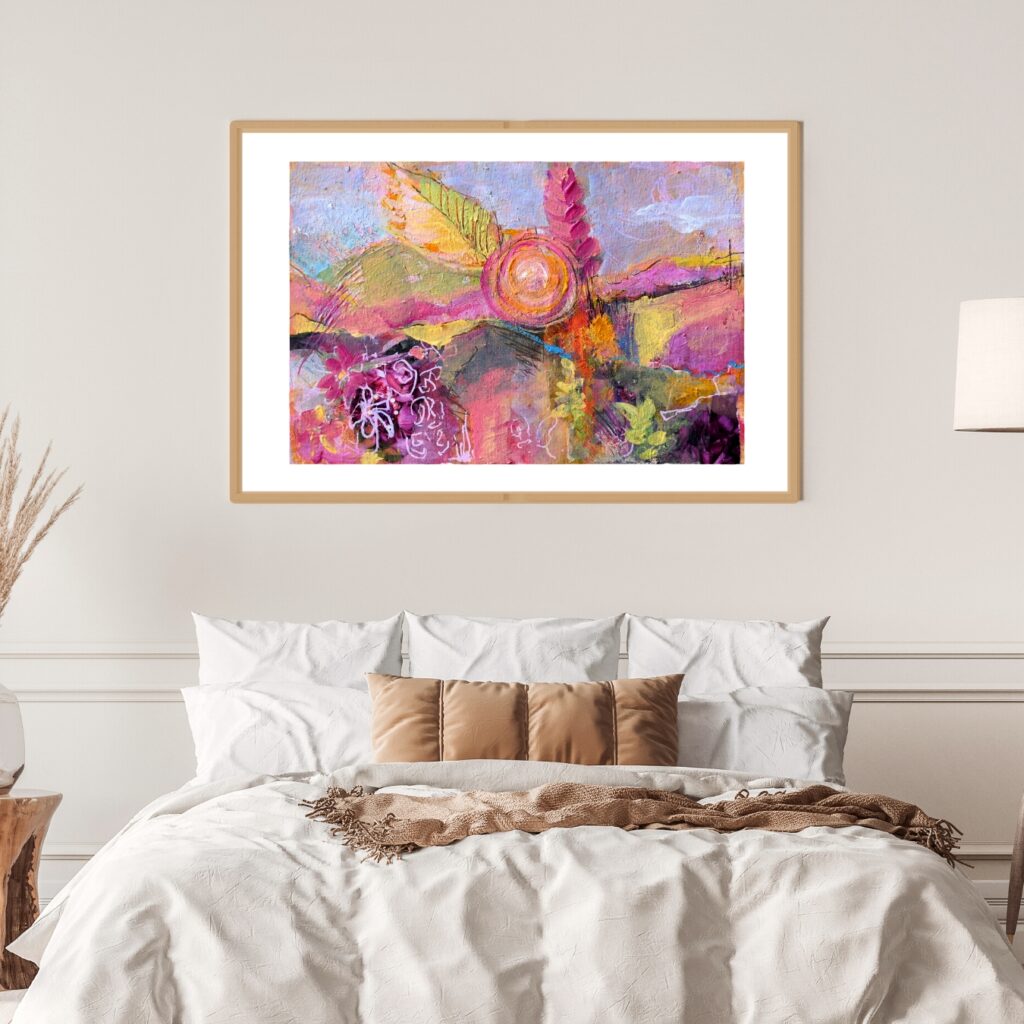 "Morning Glow"
Mixed media and collage on paper, size 22,5 x 15 cm
Original: 450,00 € (SOLD)
Shop Prints
Eine Koralle wächst
zur Oberfläche des Himmels.
Unsere Augen blinzeln nicht,
sie gründeln.
"Küstenweg von Deià nach Sóller
Über und unter dir Himmel,
über und unter dir Meer…
(Extract from the Leipziger book fair description):
""Du bist eine Insel" by Thilo Schmid, is a colorfully illustrated book containing poetic love and landscape poems about the picturesque island of Mallorca. It takes us on a journey through the wild landscapes of the Serra de Tramuntana and vibrant cities such as Sóller, Valldemossa, and Deià. We enjoy the beauty of the island and its dreamy beaches. Through heartfelt verse, it tells a story of a great love and takes us on a journey to the sea.
Authentic Texts:
All poems are written in German and Spanish
Inspiring Visuals:
A beautifully designed gift book with numerous artworks by Birte Thurow
This book is a wonderful gift for your loved ones and for anyone who loves Mallorca and wants to be enchanted by the beauty of the island."
(read the full description here)
Join the mailing list
Receive early access to new originals, prints and more!