"Through my art, I have learned to embrace a spirit of openness and curiosity, casting aside any preconceived notions or biases that might limit my creative potential. By cultivating this mindset, I have tapped into the boundless well of intuition that resides within me, unlocking a whole new realm of artistic possibility. Whether I am painting for myself or working with clients to bring their visions to life, I rely on this intuitive approach as a guiding principle, infusing every stroke with the authentic essence of my creative spirit." – Birte
"Life is a balance of holding on and letting go" - Rumi
As an artist, graphic designer and brand consultant, I am constantly exploring the question of "Why?". What is my purpose in this life? And how can I help others find their own answers to these questions?
Having studied graphic design in Johannesburg, South Africa, and worked in various advertising and branding agencies, I now work as a freelance designer and artist in Hamburg, teaching courses in mindfulness and intuitive art and guiding companies in their strategic and visual development.
Whether it's an individual seeking answers on their personal journey of self-discovery, or a brand seeking to understand their purpose and create a better world, my tried and tested processes and methods of working guide the process of transformation easily and intuitively. My methodology includes investigating, gaining insights, imagining possibilities, setting intentions, and implementing actions to create lasting change.
Interested? Join me in exploring the question of "Why?" and discovering your own purpose and vision for a more meaningful life, contact me at hello@birtethurow.de
Nature is my inspiration, the source of my strength. When I want to clear my head, I grab my iPhone or my camera and go for a walk in the woods adjacent to my home. I am often accompanied by my favourite bird – the European Robin, my personal guardian and bearer of happiness.
"The redbreast Robin symbolises growth and renewal. It teaches us that all transformation should be embraced with joy and a song in the heart. It shows you how to ride the winds of passions in your heart – and become independent and self-sufficient as a result of this transition. It's time to sing your own song."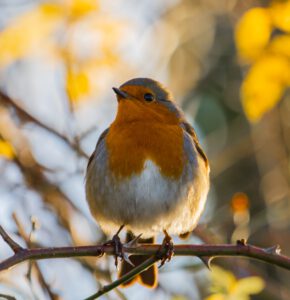 Shop
If you are interested in purchasing my art, why not browse through my shop. You can purchase either the original or a hand-signed print.
Shop
Explore your Creativity...
Dearest Birte, I wanted to thank you deeply once again for the beautiful workshop, it is a constant source of inspiration for me ever since. It really was a very special morning and YOUR presence contributed enormously to making it so special. THANK YOU!
Courses
Learn how you too can experience more joy in your life, by (re-)discovering your creative light!
Learn more
Join the mailing list
Receive early access to new originals, prints and more!